The National Confectioners Association celebrates National Candy Corn Day on October 30, a time to honor the annual production of
9 billion pieces
of candy that most people probably only eat once a year (unless you're a die hard fan who buys red-white-and-green ones for Christmas or red-white-and-pink ones for your sweetheart on Valentine's Day.
The trade association claims candy corn was invented in the 1880s by a Wunderlee Candy Company an employee George Renninger.
Wunderlee was reportedly the first to produce the
candy, followed by the Goelitz Candy Company (now
the Jelly Belly Candy Company), which has been producing the tri-colored candies since 1898.
Back then, the cooking process was done by hand: a sugar and corn syrup-based mixture was cooked a semi-liquid mixture in a large kettle, dumped into buckets called runners, and men dubbed stringers walked backwards, pouring the hot concoction into a tray of molds in the shape of corn kernels.
Br

ach's candy factory's machine puts corn starch in trays of 1,260 individual molds and moves them along a conveyor belt as air nozzles inject the color. If you want to deep-fry them, you'll have to do that at home.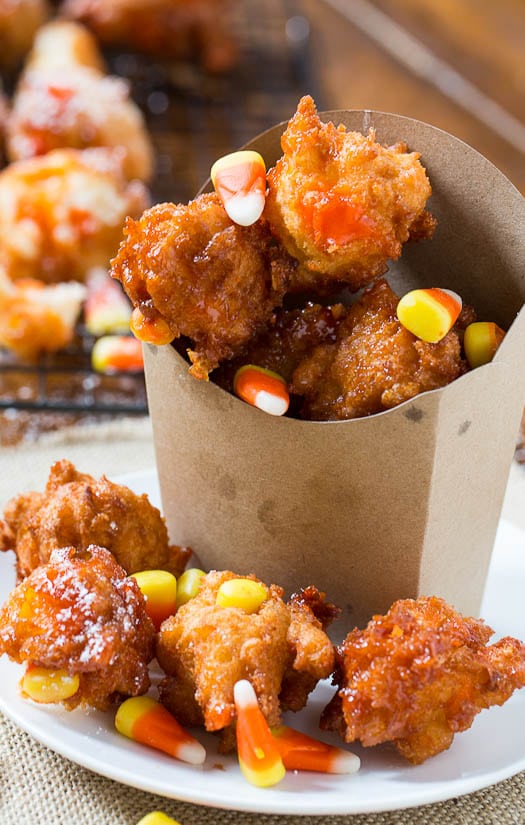 Of course, you probably know people who can barely
bring themselves to eat candy corn on
Halloween because it's too sweet, and doesn't have enough flavor.
But in a world where there are candy corn-flavored bagels, M&Ms, coffee latte, vodka martinis, cake,
jello, fudge, soap, plus stuffed toys, leggings & socks, and fingernail polish made out of, or made to look like candy corn, there really is something for everyone to enjoy.