Captain John Rackham, known as Calico Jack (because of the calico clothing he wore) was an English pirate operating in the Bahamas and in Cuba during the early 18th century.
John (Calico Jack) began his seafaring days as quartermaster on Charles Vane's brigantine
Ranger
in 1718. They operated out of New Providence island in the Bahamas, which was so notorious a base for pirates it was known as the "Pirates' Republic".
Vane and his crew robbed several ships outside New York City, then encountered a large French man-of-war. Because Vane refused to fight the man-or-war he was branded a coward, and Rackham demanded a vote from the crew in which Vane lost and was put off the ship, thus making Rackham Captain.
While in Cuba, Calico Jack captured and English sloop being held by the Spanish. Active towards the end of the "Golden Age of Piracy" (which lasted from 1650 to 1730) he sailed the ship to Nassau and accepted a pardon for his crimes 1719 . But having a penchant for adventure, he was soon again on the wrong side of the law.
While in Nassau, Jack met Anne Bonny, who was married to James Bonny at the time. Anne had been refused a divorce and whipped based on charges of adultery. Seeing no alternative, she ran away with Captain Jack, and their new crew which included Mary Read, who had come aboard disguised as a man. Calico Jack Rackham's pardon was voided when they stole a sloop belonging to John Ham.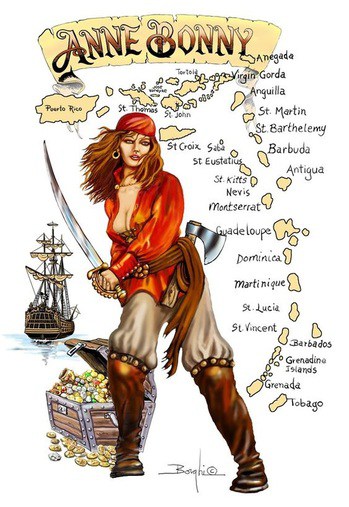 After a short run, Captain Jack Rackham was captured by Royal Navy pirate hunter Jonathan Barnet. In 1720, he was put on trial in Jamaica, and was hanged in November of that year in Port Royal. His body was gibbeted and put on display at a main entrance to Port Royal now known as Rackham's Cay.
Anne Bonny and Mary Read both claimed to be pregnant at their trials, and so were given a temporary stay. Mary Read died in April 1721, most likely of fever related to childbirth. There is no historical record of Bonny's release or of her execution.
Although art might imitate real life, Captain Calico Jack, didn't have the screenplay luck of Captain Jack
Sparrow.